Brittany Day, a Fayetteville, NC, mother, describes herself as a "loss mom," following the stillbirths of her twins, Sophie and Ruby. Channeling her grief into purpose, Ms. Day became co-chair of the NC Sandhills Chapter of the national stillbirth non-profit organization, The Star Legacy Foundation, which is dedicated to healthy pregnancy outcomes and the prevention of fetal death.
The North Carolina Department of Health and Human Services estimates about 800 children were stillborn in 2018, per the latest figures available. Ms. Day has become a beacon of hope for pregnant mothers who desire to be as healthy as possible to prevent fetal death, as well grieving mothers who find meaning in their loss. Ms. Day is dedicated to raising money to educate for safe pregnancies and stillbirth prevention and plans to use her grant to expand her outreach.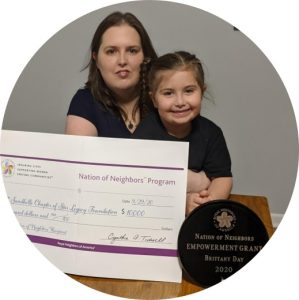 "We are humbled, blessed, and excited to win the grant," says Ms. Day. "There are many causes of fetal death, and we want to save as many babies as possible," she explains. Locally, the Sandhills NC Chapter partners with hospitals, physicians, and counselors to provide educational and grief counseling resources for families and their children who have lost a child to stillbirth.
Ms. Day says the grant will help provide outreach to more families, especially low-income mothers, who may not have access to educational material on safe pregnancies. And, when a stillbirth occurs, there is a myriad of emotions after the loss, even if the mother becomes pregnant again. "It can be a traumatic experience as well for children who were to be siblings."
One particular project to be funded is a book Day and her daughter, Eliza, co-authored to speak directly to children of loss. "Children's voices need to be heard. Eliza was three years old when we lost her two sisters, and we grieved together." The new book's title, "I'm STILL… A Big Sister," is geared for children to help process grief. The grant monies will be used for illustration and publishing costs. The mother-daughter duo's vision is that grieving families who read the book together will know they are not alone. "I feel as though I have two angels in heaven who are guiding my purpose, every step of the way," affirms Ms. Day.
Nation of Neighbors is a Royal Neighbors of America philanthropy program that honors women leaders who are impacting the lives of women and girls. Each year, recipients are selected for an empowerment grant to support their work. To date, Royal Neighbors has awarded more than $2 million to women across the country.
For more information and program details, click here.
Form  TRN00011| Rev date 9-2020