Back in 2000, a group of women hailing from diverse communities across Metro Atlanta met to discuss how they might provide support for disenfranchised women in their communities. Over the course of their conversation, they all became more aware of the significant gaps in the services available to many of those who want, but can't access, help. One participant, Mary Frances Bowley, decided to take action. Twenty years later, Mary Frances leads Wellspring Living, a thriving, multi-faceted organization that provides services for sex trafficking victims and at-risk women and girls and a 2020 recipient of a Nation of NeighborsSM grant. "We are so blessed and thankful," says Mary Frances, Founder and Executive Director of the non-profit. "We simply could not do the work we do without people like Royal Neighbors recognizing the need and participating with us."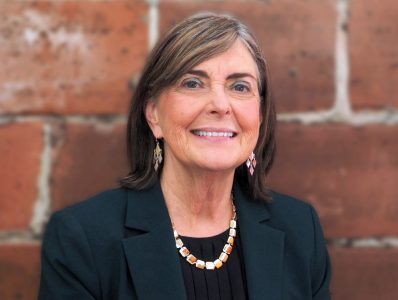 Wellspring Living began with the opening of a residential home for women in 2001. "Our first client was a woman in her twenties who had been exploited as a young teen. She taught us what survivors of trafficking need – which is basically everything," says Mary Frances. She further explains that many victims struggle to gain a foothold on surviving not just due to the trauma they've experienced but because they missed out on opportunities to learn basic life skills. They simply have too much baggage. "But I can tell you," Mary Frances states, "if they've lived through it, they're tough. We provide access to the help they need and want, and the results are transformative."
Wellspring opened a second home for girls in 2008. At this age, these clients have different needs, particularly in terms of education. Many haven't been allowed to attend school or have had to avoid it for their own safety, so schooling is incorporated into their program.
Mary Frances says, "The more you work with survivors, the more you learn what the unique needs are and where the gaps are. One significant hole was securing sustainable employment." In response, Wellspring Living partnered with a staffing agency to create the Women's Academy. Mary Frances says the grant funds received from Royal Neighbors will go to support the Academy, which offers two ten-week programs – a GED Track and a Career Track. She explains that, even though the Academy does not include a residential setting, it still provides a comprehensive care model which includes childcare, food, transportation, therapy, and life skills, as well as the core curriculum.
Once clients have completed the Career Track, which includes courses in workplace skills, professional development, and certification in Microsoft Office, they can interview for a 12-week paid internship with one of fifteen local businesses who partner with Wellspring Living. Mary Frances adds, "The program is so impactful not just for the women but for their children as well. Almost all of our clients are mothers. To help them move towards securing living-wage jobs helps the whole family. And, it helps break the cycle of poverty and risk of exploitation for their kids."
Wellspring Living has 130 staff members and many, many volunteers. Prior to COVID-19, anywhere between 2,000-3,000 helpers would interact with the organization and its programs. Like many similar organizations, Wellspring Living has had to pivot during the pandemic to ensure they still meet the needs of their community, while maintaining the safety of staff, volunteers, and clients. In particular, demand for the Academy has grown this year and enrollment numbers are climbing. Mary Frances says, "The timing of this grant could not be better! As the need continues to grow, we will be able to keep up."
Nation of Neighbors is a Royal Neighbors of America philanthropy program that honors women leaders who are impacting the lives of women and girls. Each year, recipients are selected for an empowerment grant to support their work. To date, Royal Neighbors has awarded more than $2 million to women across the country.
For more information and program details, click here.
Form TRN00017 | Rev. 10-2020