One of the ways Royal Neighbors has recognized its loyal and hardworking members over the years is through the gift of member pins. Today, we provide pins to celebrate significant milestones, like 25, 50, or 75 years of membership. But, historically, members were gifted pins much more often, based on positions held, to commemorate events like the Supreme Camps, or as a simple 'thank you' for a job well done. The pins were designed in various unique styles using the Royal Neighbors logos and colors.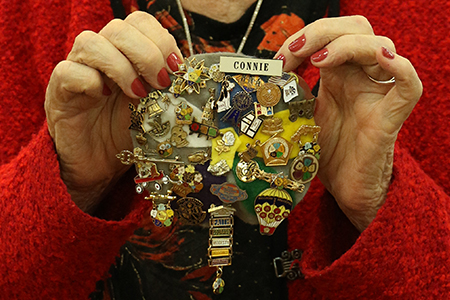 If you want to see an impressive collection of pins, you need look no further than that of Connie Fox. Connie, a Royal Neighbors member for nearly 65 years, has been an active volunteer for the entirety of her membership. Over the years, she has collected so many Royal Neighbors pins, she admits she has lost count! With such a vast and varied collection, it's hard to imagine that Connie could have a favorite. But she says that her 50-year pin holds a special place in her heart. It was presented to her by her dear friend Daisy during her last chapter trip in San Diego more than ten years ago.
When asked what the best part of being a member has been, Connie states, "I love the people. I've made a lot of friends over the years." Her pins serve as unique reminders of her membership and the friends she's made along the way.