When the city of Riverbank, California was incorporated in 1928, there wasn't much available in the way of local services. That is, except for Royal Neighbors, which had been chartered there three years earlier, in 1925. "Almost every founding member of our town was also a founding member of our Royal Neighbors chapter," says Diane Talbert, who joined in Royal Neighbors in 2007 and has served as the group's treasurer ever since. Royal Neighbors is so much a part of this Northern California town that the chapter was recently asked to donate a mortuary record that goes back to 1927 for the city's time capsule.
Diane's family also has a long-term relationship with the chapter. Bennett (Ben) Talbert, Diane's husband, is the grandson of Ella Bennett, was one of the founding members of the chapter. Not only is Ben the chapter's only male member, he's also one of the longest-serving, having joined 61 years ago when he was two.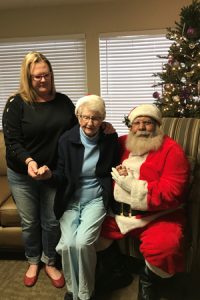 His gender is particularly valuable at Christmas when he dons his Santa Claus suit for the community's annual Toys for Tots gathering. "Sometimes when the parents come by to pick up the gifts for their children, they have to bring their kids with them," says Diane. "We realized several years ago that when the kids saw their parents loading the unwrapped gifts into the car, it ruined the surprise—and maybe their belief in Santa. So we got Ben to dress up as Santa. While the kids are with him, the parents are hiding the presents in the trunk. It's a great solution and has become a real tradition for these kids."
Toys for Tots isn't the only beloved tradition that this historic chapter supports. The biggest event is an annual luncheon to honor the community's military veterans. "A lot of people don't realize the sacrifices veterans have made for our country and our freedom, so in 2007 we came up with the luncheon as a way to thank them," says Diane. "Each veteran and a guest get a full meal and a gift, and we'll deliver to in-town vets who can't make it." Members of a local youth group provide service. "As the children mingle with the guests, they're learning about the importance of serving your country and what the military means," says Diane. "Those are valuable lessons they might not learn elsewhere."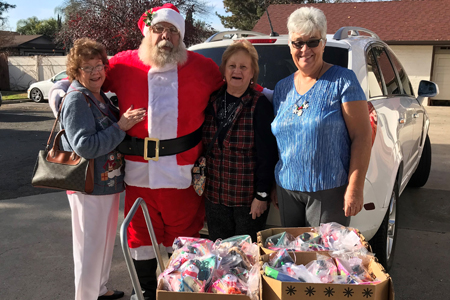 Almost every founding member of our town was also a founding member of our Royal Neighbors chapter.
The event has become so popular that attendance has more than doubled in the 12 years since the event's founding, from 90 guests to just under 200. Although it started as a local project, veterans come from as far away as San Jose, Redding, and Sacramento. "For one day, it's all about them," says Diane, who organized the first luncheon to honor her two brothers who lost their lives in the Vietnam War. Thanks to a grant from the Royal Neighbors Home Office, the Riverbank Chapter also hosted a one-day retreat with therapists, yoga instructors, and other professionals on hand to provide female veterans with tools to cope with some of the unique trauma they often had to endure as women in battle zones.
In addition to helping veterans, the Riverbank Chapter supports local children, providing Teddy bears that ambulance teams and firefighters can offer during tough times and giving away free bike helmets.
The group is as creative in their fundraising as they are in helping their community. One favorite is Paint Night, which gathers potential Picassos together with easels, a single painting and an instructor, who walks each budding artist through the process of copying the painting. The $40 event includes a baked potato bar and, once complete, a new piece of art.
The community's most cherished fundraising event is the annual Tea Party, which has gathered mothers, daughters, aunts, cousins, and friends together over handmade pastries, dainty tea sandwiches, and pots of freshly brewed tea since 2013. Though not required, fancy hats are encouraged!
More than just fun, the event typically raises more than $900 for the chapter. Income comes from $10 tickets to the tea (which also includes entry into a drawing for a door prize) as well as from raffle ticket sales and photo booth photos, which are $5 each. "That's been really popular," says Diane. "People love to have a memory of a fun day."
And the Riverbank Chapter plans to offer many more such days in the years to come!